Solar Eclipse World Atlas
Central Solar Eclipses: 2021 to 2030
Fred Espenak
Description
The path of every central solar eclipse (total, annular, and hybrid) from 2021 to 2030 is plotted on the world map (equidistant cylindrical projection) below.
The central paths of total eclipses are shaded blue, while annular eclipses are shaded red.
For hybrid eclipses, part of the path is shaded blue (total), and part is shaded red (annular).
Major cities are plotted as black dots, scaled by population size.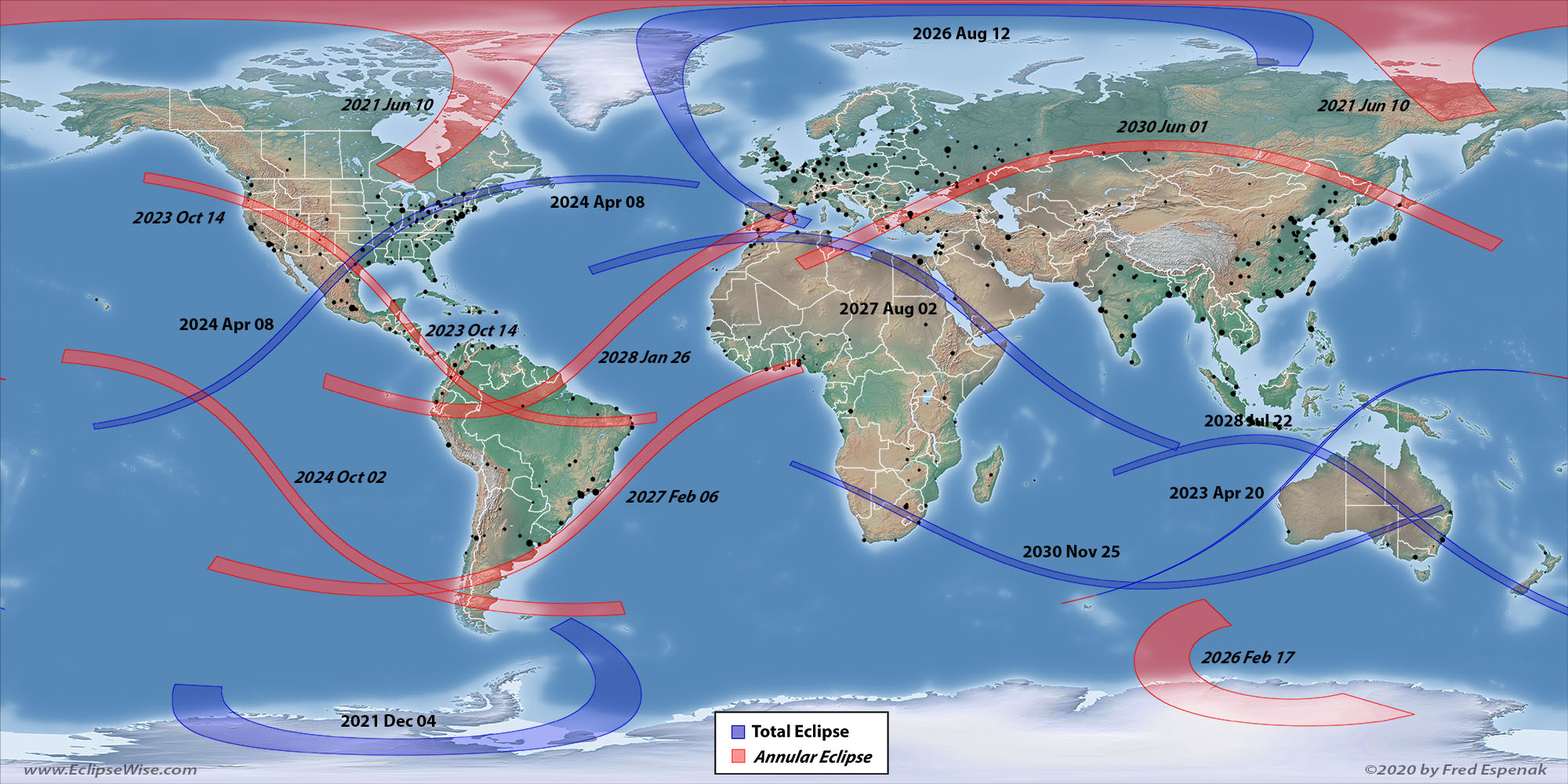 Decade Pages of Solar Eclipses
Each link in the following table displays a page containing 10 years of solar eclipses.
Every eclipse has links to a global map, an interactive Google map, and a dedicated web page for that eclipse.
Century Catologs of Solar Eclipses
Each link in the following table displays a catalog containing 100 years of eclipses.
For other centuries, see Six Millennium Catalog of Solar Eclipses: -2999 to +3000
Maps of Solar Eclipse Paths
The World Atlas of Solar Eclipse Paths features maps showing the paths of all total, annular and hybrid eclipses.
Each map in the atlas covers a 20-year period. The atlas spans five millennia from -1999 to +3000 (2000 BCE to 3000 CE).
For eclipse maps covering other centuries/decades, see World Atlas of Solar Eclipse Paths.
Links to Additional Solar Eclipse Predictions
Home - home page of EclipseWise with predictions for both solar and lunar eclipses
Eclipse Predictions
The eclipse predictions presented here were generated using the JPL DE406 solar and lunar ephemerides.
The lunar coordinates have been calculated with respect to the Moon's Center of Mass.
Acknowledgments
Some of the content on this web site is based on the book 21st Century Canon of Solar Eclipses.
All eclipse calculations are by Fred Espenak, and he assumes full responsibility for their accuracy.
Permission is granted to reproduce eclipse data when accompanied by a link to this page and an acknowledgment:
"Eclipse Predictions by Fred Espenak, www.EclipseWise.com"
The use of diagrams and maps is permitted provided that they are NOT altered (except for re-sizing) and the embedded credit line is NOT removed or covered.